We have solutions for large sized enterprises
Management systems have an increasingly important role in strategic planning and decision making. TEMA Solutions offers a complete range of solutions perfectly adapted to large companies.
Tema Solutions offers ERP management software, BPM (Business Process Management – Workflow Automation software), BI (Business Intelligence tools) and Mobile software with state-of-the-art technology. These IT tools enable large organizations to have exceptionally functional management systems in order to simplify day-to-day operations and plan for growth.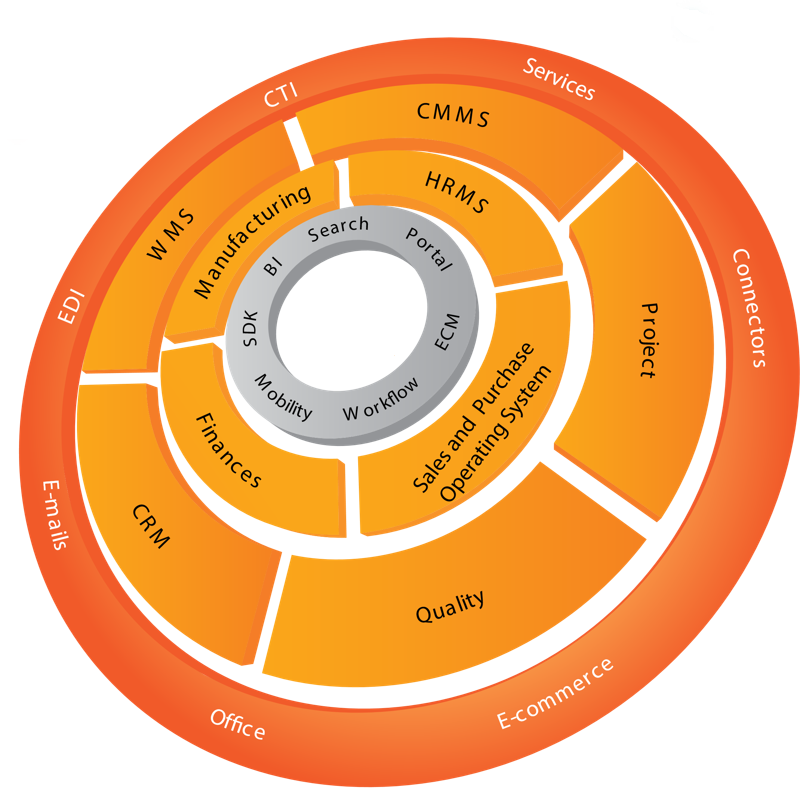 Microsoft Dynamics 365
With over 47,000 users worldwide, Microsoft Dynamics 365 is the ultimate software for distribution and service companies.
Microsoft Dynamics 365 offers full features fully integrated with Microsoft tools (Office 365, Sharepoint, etc.).
Oracle JD Edwards
JD Edwards is the most flexible ERP software in its category with more than 80 modules available.
JD Edwards combines power, ease of use and light support.
Divalto Infinity
Divalto Infinity is the ERP software with the largest functional coverage of the market for medium-sized companies.
Divalto Infinity offers a complete modular suite for manufacturing, service and distribution companies.
Business Process Management System (BPM)
Moovapps by VDoc
Moovapps by VDoc offers a complete and integrated collaborative suite.
• Business Process Management (Quality, Finance, HR, Customer Services, IT and more)
• Document management EDM (Quality Control)
• Dematerialisation
• Content management: Intranet and Extranet
Created for managers, Moovapps is fully customizable without development.
Moovapps is a unique platform situated at the center of the company where employees, customers and suppliers communicate effectively.
Microsoft SharePoint
SharePoint offers a complete collaborative suite
• Content management: Intranet and Extranet
• Document repository
• Business Process Management (Quality, Finance, HR, Customer Services, IT and more)
Fully integrated with Microsoft Office 365 and Dynamics CRM, AX, GP, NAV.
SharePoint is the ideal toolbox for developing collaborative portals.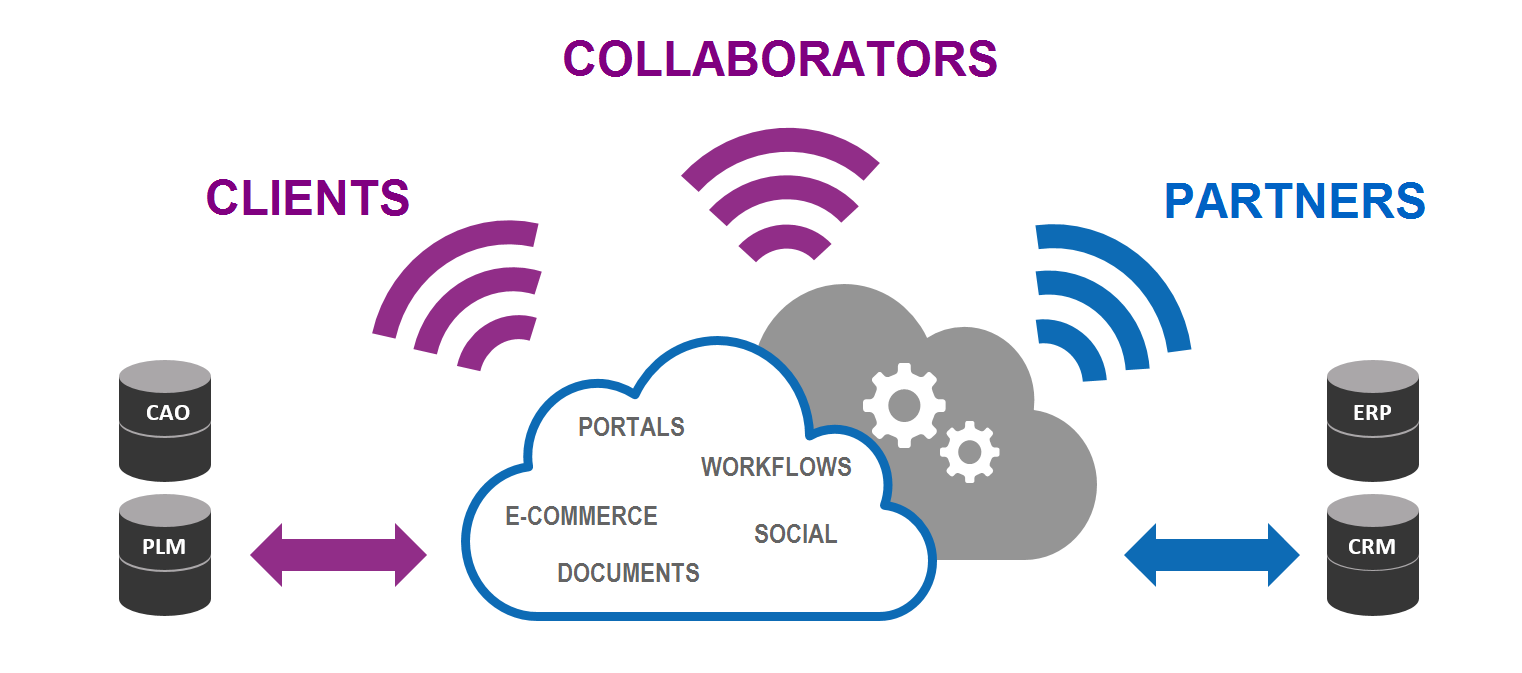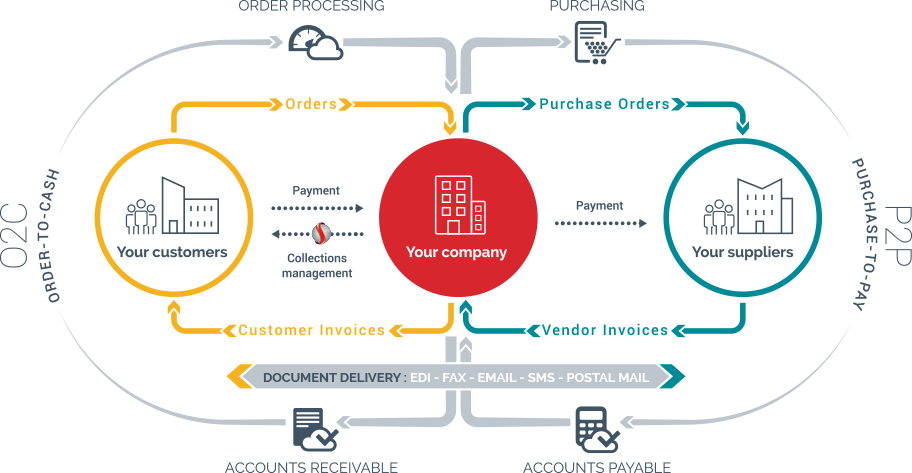 Dematerialisation Software
Esker
Present worldwide, Esker generates 40% of its turnover on the Canadian and American markets.
Its strength: propose dematerialized tools for busines key processes such as supplier invoice management (Purchase to pay or P2P), customer order management (Order to cash or O2C) while monitoring invoice compliance and collections management (CRM). Fully integrated with leading ERP management software such as SAP, JDEdwards, Oracle, Microsoft Dynamics 365, Divalto, Esker is the perfect compliment.
Esker's solutions are available in both SAAS and on-premise.
Their mission: Ecological management of the company by reducing the energy footprint with paperless processes.
Computerized Maintenance Management System (CMMS)
DIMO Maint OM
DIMO Maint OM
is a versatile software and suitable for SMEs.
DIMO Maint OM is a global solution for maintenance management and organisational function adapted to different sectors (manufacturing, service, tertiary, communities and hospitals).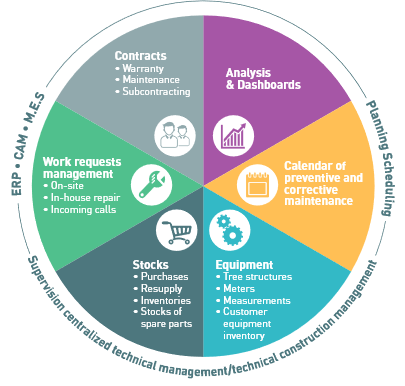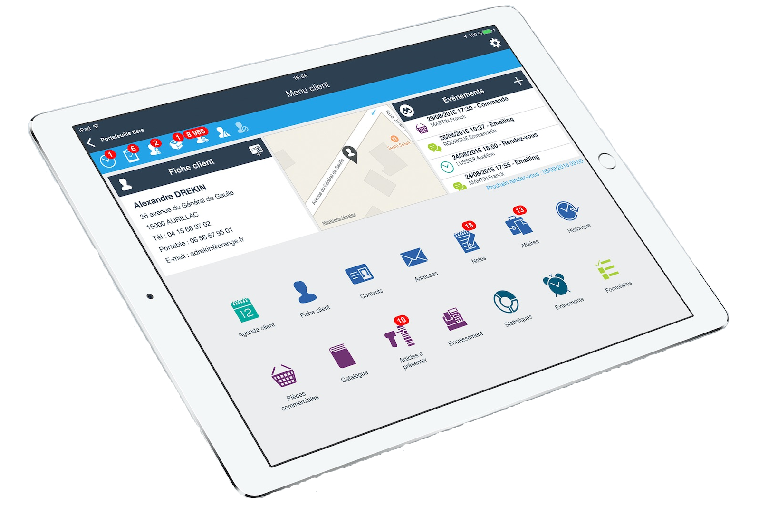 Sales and Services Mobility Software
Swing Mobility
Swing mobility is a mobile solution for the sales (CRM) and services departments (technician). Available online and offline, it works on a cross-platform mode (iOS, Android, Windows Mobile).
Swing Mobility is the perfect mobile compliment to any ERP software thanks to its web services (Divalto, Epicor, Oracle EBS / JDE, Microsoft Dynamics AX / GP / NAV and Sage).
Business Intelligence Software (BI)
Power BI
Power BI is the perfect tool for a complete data analysis. Build dashboards to access information quickly.
Power BI adapts to all our products (Divalto, Moovapps, Microsoft and Dimo).
Infineo
Inside is the perfect tool for reporting on Excel, connected directly to your database, build reports has never been easier.
With Inside, you will be able to create reports or indicator that allowing you to access quickly to the good informations and make the right business decisions.
Inside is fully conected to ours softwares as Divalto, DimoMaint OM, Moovapps, Microsoft 365 …